I am officially a Stott Pilates Instructor! I am offering private sessions on the reformer. Sessions are $60 for a 50 minute session.
STOTT PILATES is a contemporary approach to the original exercise method pioneered by the late Joseph Pilates. Co-founders Moira and Lindsay G. Merrithew, along with a team of physical therapists, sports medicine and fitness professionals, have spent over two decades refining the STOTT PILATES method of exercise and equipment. This resulted in the inclusion of modern principles of exercise science and spinal rehabilitation, making it one of the safest and effective methods available. This clear and detailed approach forms the basis for STOTT PILATES training and certification programs. It's used by rehab and prenatal clients, athletes, celebrities and everyone in between.
What is the difference between the STOTT PILATES Method
and other Pilates techniques?
STOTT PILATES incorporates modern exercise principles, including contemporary thinking about spinal rehabilitation and athletic performance enhancement. For example, some approaches may promote a flat back, whereas STOTT PILATES exercises are designed to restore the natural curves of the spine and rebalance the muscles around the joints, placing more emphasis on scapular stabilization. In addition, there are more preparatory exercises and modifications to cater to many different body types and abilities, making it applicable to everyday life.
What are the benefits of STOTT PILATES?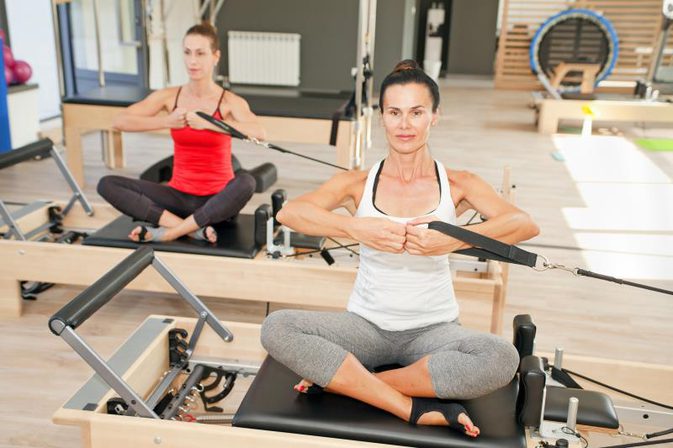 The benefits may include but are not limited to:
Increased strength and length without unwanted bulk

Increased core strength, stability and peripheral mobility

Improved fitness levels which may help prevent injury

Greater ease of movement through a full range

Heighted body awareness and mindfulness of movement

Decreased impact on the joints

Added variety as a complement to other forms of exercise

Improved performance of specific sport skills (golf, skiing, hockey, etc.)

Enhanced balance, coordination and circulation
Click on the button below to schedule your private pilates session with Stephanie.